Keeping an eye on Users and Orders in your newsstand
Manage the Newsstand's Users
In a tab, called Users, is your users' administration. You have full access to all your registered users. You may create a new user account that can access your newsstand by clicking "Add User" at the top and provide the user's first name, last name, email, and password. However, when a particular user doesn't require access to your newsstand any more, select that user and set a "User blocked" option to prevent further access to the newsstand.
Please bear in mind that blocked user does not have access to the newsstand nor have access to any paid publication within newsstand any more. However, a user still has access to all publication he or she has bought within iOS or Play Store apps.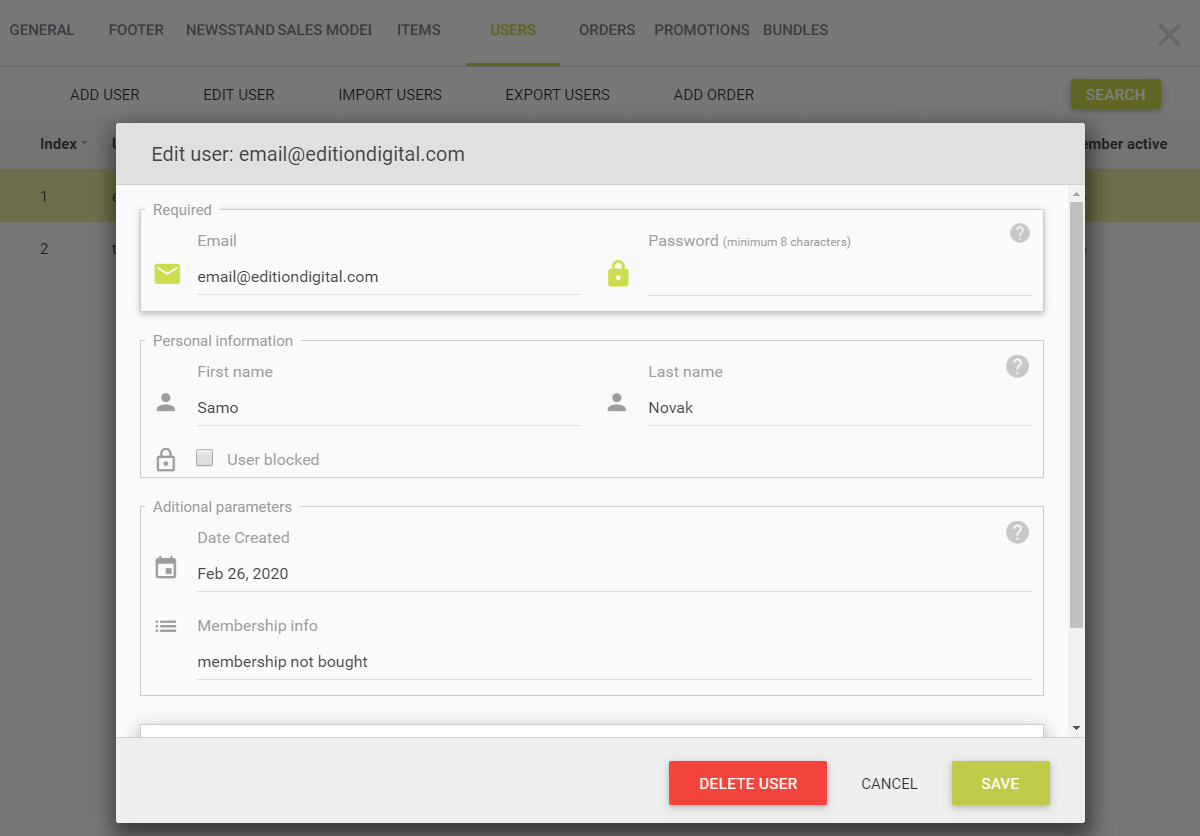 To add a product from newsstand to a specific user, firstly select a user and click "Add Order". In the pop-up window, select products from a list. You may select a single publication, a bundle, a subscription or a membership if they exist. Please keep in mind that all products within an order are entirely free for the user and accessible right away.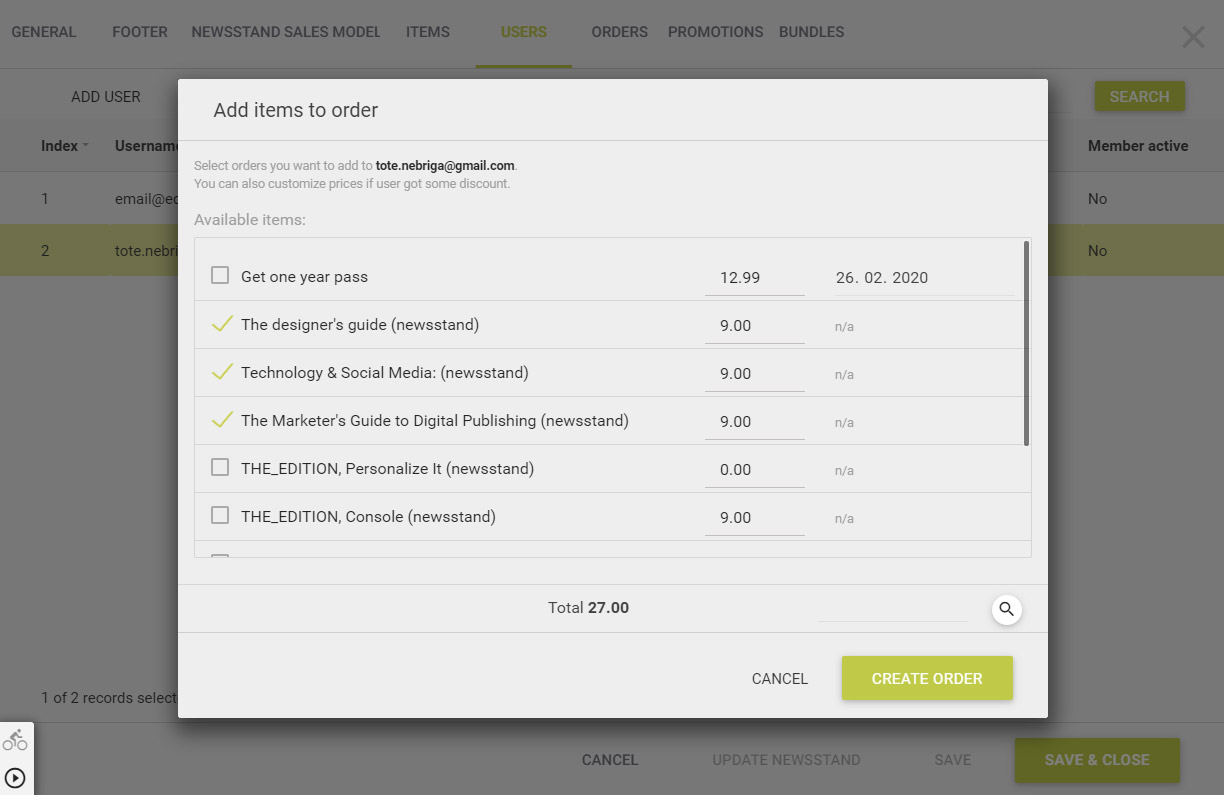 If you have a list of users, you may import them to the newsstand, make sure the fields are comma-separated. Each record has to be in the new row. To override existing users with the same username set an Update existing users option to on.
To export all users, you must be compliant with the General Data Protection Regulation 2016/679 directive. A newsstand gathers data within the European Union, and by exporting users, you are responsible for further data processing, storage and protection.
Track the newsstand's Orders
The Orders tab is where you can track all orders made through your newsstand. It comes very handily when you need to know the details of a specific order like when and who made it, what it contains, its price, and, of course, the order status. You also can cancel orders and subscriptions, if necessary.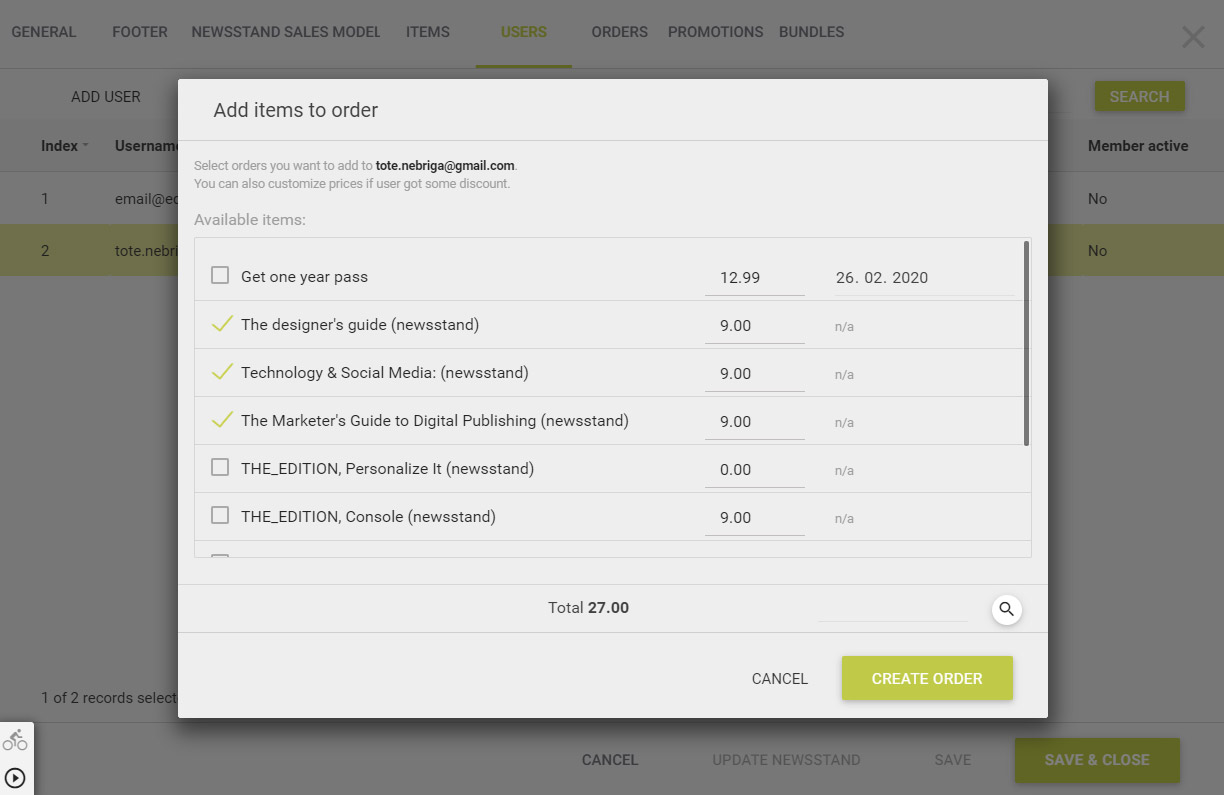 Once your newsstand is ready to go, the containing publications are displayed within a responsive website that assures top-notch user experience and motivates readers to subscribe.
If you have decided to set up an Android and iOS native apps to go with the web newsstand, that's even better. The users can buy or subscribe either through the web or apps published through iTunes, or Google Play stores and view the publication anywhere, but you can manage them all in one place. And get this, all your earnings fly directly to your account without commission!
If a user has an active account in web newsstand, he or she may also log in inside apps, and all purchases are available across all devices and web newsstand.
Happy and fruitful monetising.
Newsstand guides
Keeping an eye on Users and Orders in your Newsstand
Have something specific in mind? Don't worry, just type what you are looking for. Here is our searchy searched.