How to sell your publication in the Newsstand?
Set items for selling
As mentioned, you can sell individual publications at a price of your choosing. You can define a specific price for each issue in the "Items tab", where all editions that you've added to the newsstand are listed. For the item to appear in the newsstand, you must enable a Published option. Next to that option is an input field where you can provide the price of that item. To offer any edition for free, select the Free option underneath.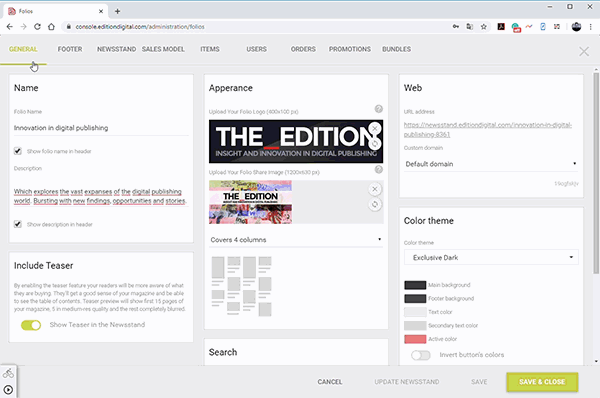 You've probably also noticed iOS Product ID, Android Product ID, iOS Shared key, and Android license key fields, which are present under the subscription details and also under each edition. When setting up a web-only newsstand, you needn't worry about these bits of info because they do not apply there.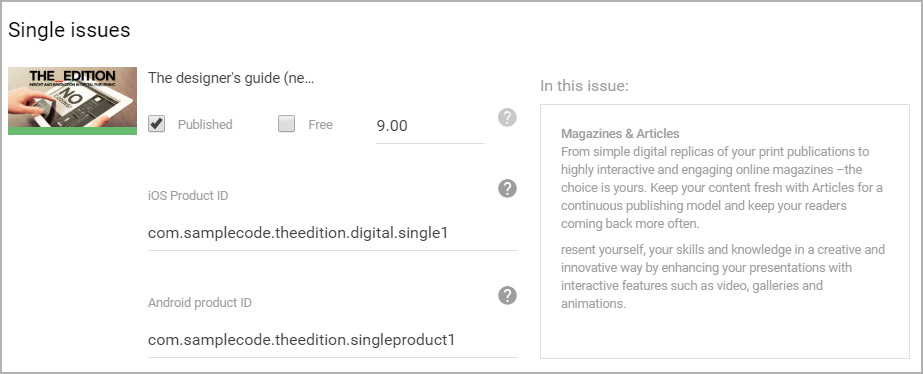 However, if you've decided to seel publications in apps, these bits of info are required. The iOS product ID and The android product ID are keys to uniquely identify every product you wish to sell from your application. Please, bear in mind that all products must be created in iTunes Connect (In-App-Purchase) and Google Play Developer Console, (In-App-Purchase product). You have to connect the same products from the app's store with the newsstand items tab using the app's ID.
Best practice: set a few publications free of charge that readers can have a look, what are you selling.
Set up a payment method in the Newsstand tab
To start selling your editions, you'll need to set up a payment method, and the Newsstand tab is where you can do that. On the left side, you need to select which currency the newsstand uses to display prices. Below that is the Auto apply option, where you can select between manual or automatic. When you select manual, you are required to click the first "Save" and then "Apply changes" button at the bottom after every changes that you are sure you want to commit to. If you feel confident enough not to double-check the changes before hitting the Apply changes button, you can select automatic, which applies the newsstand data and preferences automatically.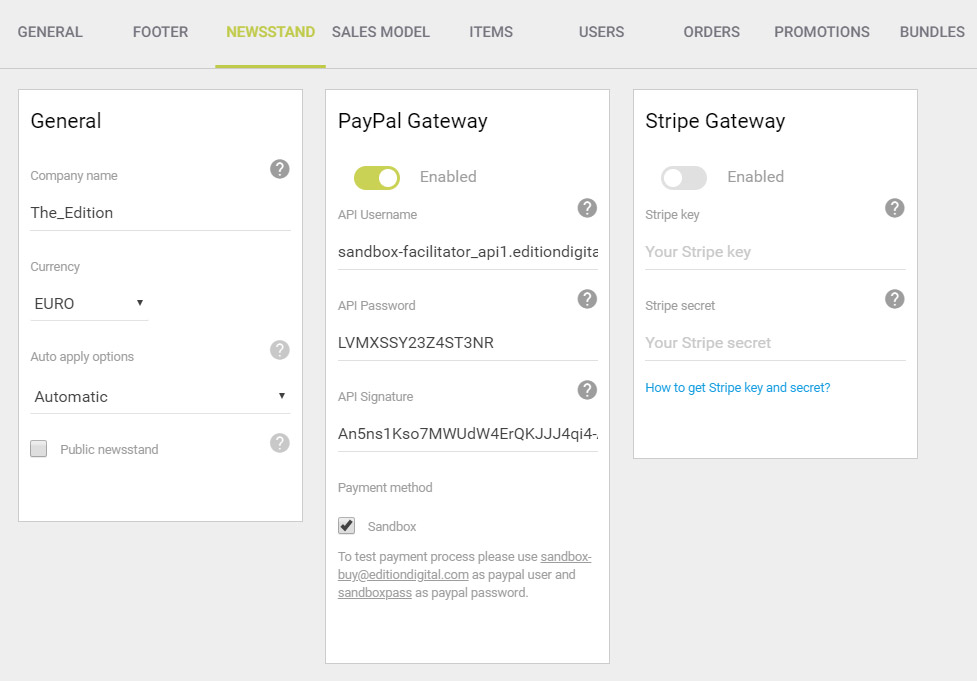 On the right side of the "Newsstand tab" is where you need to select the payment method you would like to offer on your newsstand. Depending on the method you select, we require a few corresponding merchant's API details.
When you select PayPal (merchant account), for example, we require the API signature credentials (https://developer.paypal.com/docs/classic/api/apiCredentials/): username, password and signature, all of which you can obtain through your PayPal merchant account. This info is vital because the system uses it to interact with your merchant account to transfer the funds of each purchase.
Same goes for Stripe payment. Stripe is a credit card based payment processor, and to use it, you must first create an account and obtain a key and a secret. Please follow this link for more information: https://stripe.com/docs/keys.
You may choose only one payment processor or both. It is up to you. Please keep in mind that we (Edition Digital ltd) do not process any payments for our clients. All accounts (PayPal or Stripe) must be set for a country where your business is located. You have to take care of all the prices and taxes. The ones in our Newsstand store are Tax Included.
When dealing with payments, it is of the utmost importance that you test things out to make sure everything is working correctly, which is why we've enabled a sandbox option. Most, if not all, merchant accounts provide a way of testing their API, so be sure to check your merchant's documentation to learn how to enable testing (sandbox) and obtain the testing info. When you're ready to start testing, select the sandbox option, which is next to the payment method option, and use your newsstand to make a purchase. After that check, if the test purchase went through.
Add a subscription or membership in the "Sales model tab"
Here you can select which of the available selling models you would like to use on your newsstand.
The Single issues model

enables you to sell each issue individually; you can set the prices for each issue in the

Items tab

.

The Subscription model

enables you to set a price for all upcoming issues that your customers receive in the selected period.

The Membership model

enables you to set a price for all back issues and upcoming issues that your customers have access for a

selected period

of time. Basically, with an active membership, a reader has access to all items within the newsstand. Customer looses the access to all items when subscription period expires.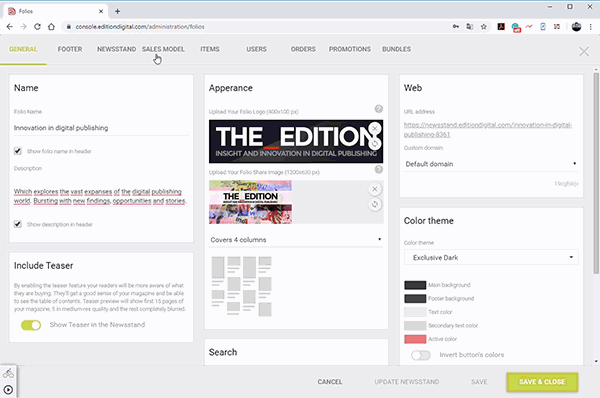 There are two additional settings in the Subscription and the Membership window:
"Enabled option" grants a sales method to be accessible.
"Visible option" shows a subscription option in every product in the newsstand. If disabled, a subscription option doesn't show in Newsstand, but you can still place an order in the Users tab.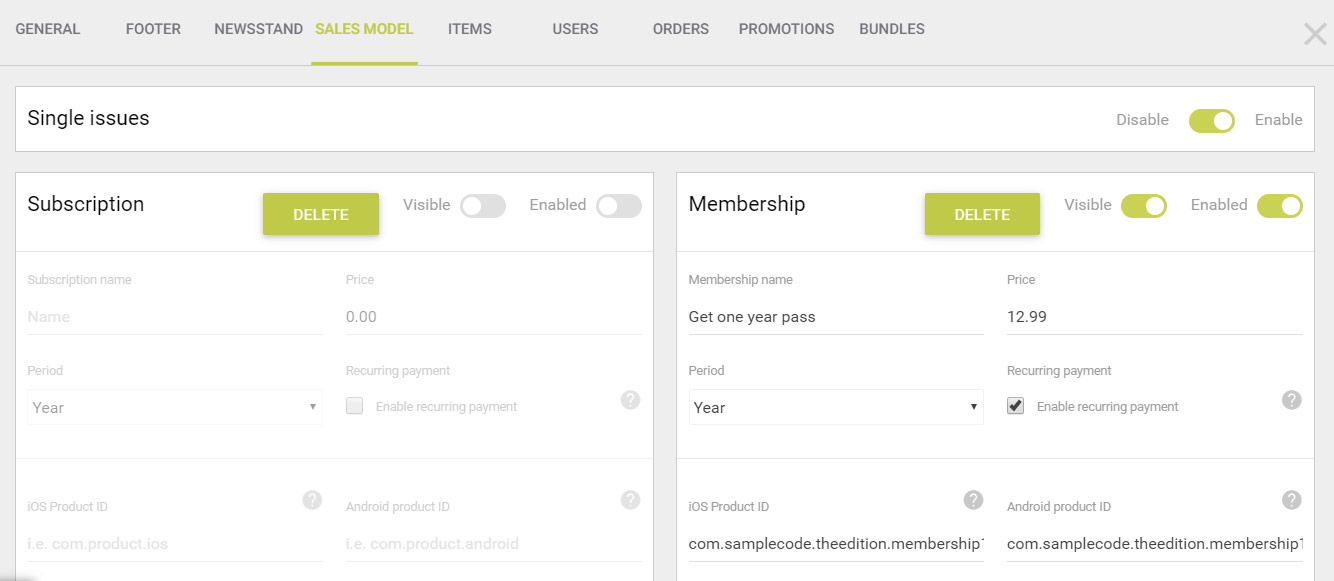 Each selling model can be used individually. You can also use a combination of the Single issues and the Subscriptions or Membership model, but you can't use the Subscription and Membership models at the same time.
Create several products for sale as a bundle
The bundle combines several products into a single comprehensive package for an all-inclusive reduced price. Make sure to explain in bundle description what a user gets by buying this offer.
In administration you need to:
Set the

Bundle name

Set the

Bundle description

: Make sure to explain what a user gets when buying the bundle

Set the

Price

Set the iOS product id, Android product id (optional; when selling bundles in the dedicated app)
Upload the representative bundle image

. The product image should show what you are offering within the bundle. Be creative!

Associate items

: Pick the items which the end-user gets after buying the bundle.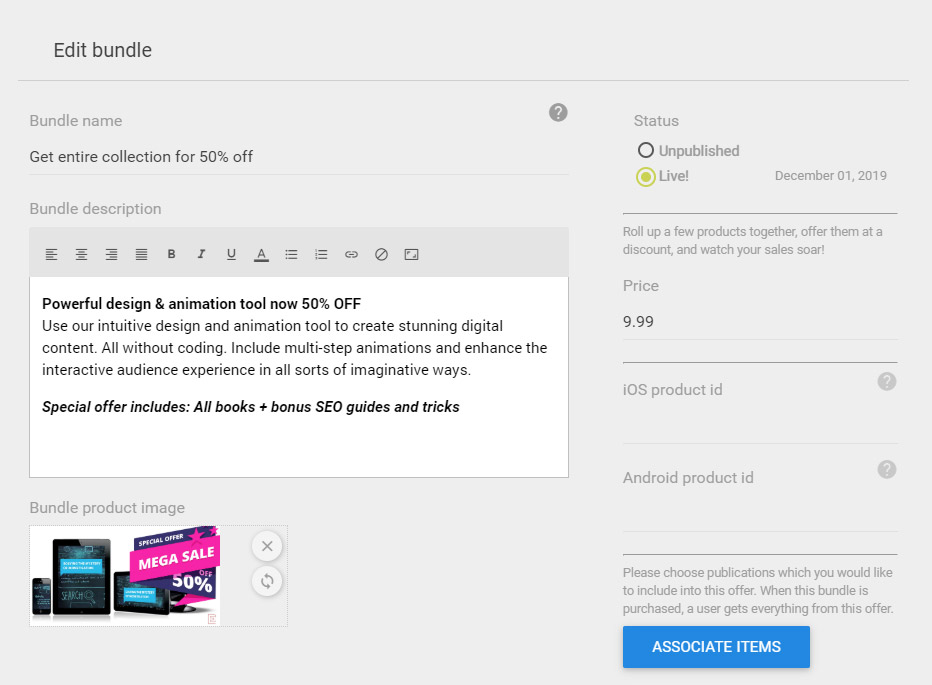 The bundle shows up in your newsstand on top, as a second product, right after the featured publication. After purchasing the bundle, the customer gets all associated items into the library.

Newsstand guides
How to sell your publication in the Newsstand
Have something specific in mind? Don't worry, just type what you are looking for. Here is our searchy searched.