How to create and manage a newsstand
The Edition digital newsstand facilitates a simple and effective way to monetise your digital editions on the web and through native apps published on iTunes and Google Play stores. We've taken great care to make the setup process as intuitive as possible, so you are literally just a few click away from starting your own digital newsstand.
Start by navigating to Administration and Folios where all your existing folios, newsstands, and apps will be listed.

Looking at the list from left to right, every folio, newsstand, and app is represented with its name, the number of editions it contains, its bespoke url address (only Folios and Newsstands - Apps don't need an url), edit button, and a tag so you can quickly know whether it's a Folio, Newsstand or an App.
To create a new newsstand, locate and click Create new newsstand at the bottom of the list. This will open a popup where you just need to provide a name and a description of your newsstand. After you do so, click Create Newsstand and it will be added to the list.  

Whenever you click your newsstand from the list it will expand, revealing the containing editions. But immediately after you've created a new newsstand there aren't any edtions to display, so let's go ahead and add a few. To do that click Add or remove editions, which opens a list of editions you are eligible to use, and simply select the ones you want to include by clicking them once. Finalise by clicking Save and Close. To remove a single edition from a newsstand, look for the X button that's located on the far right of the expanded newsstand.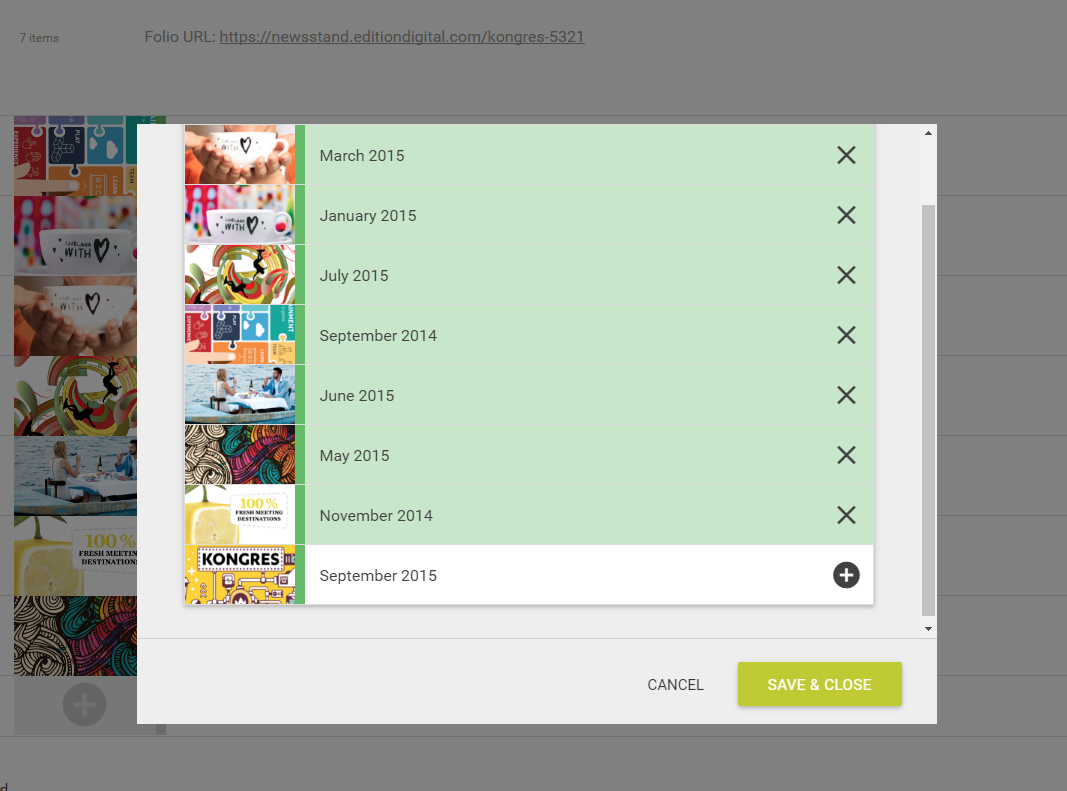 To start setting up your newsstand locate and click Edit newsstand that's located on the far right of the newsstand entry. In the newly opened window you'll notice that all features and preferences, which the newsstand makes available, are nicely organised in separate tabs where you are able to change the appearance, set up a payment process, define prices of individual editions and subscriptions, manage subscribed users ,and, last but not least, track orders . Now we'll have a look at each of these sections a bit more closely.
General
The first tab from the left is where you'll need to provide a name and a description of the newsstand. These two bits of info are quite important because they give your newsstand its identity.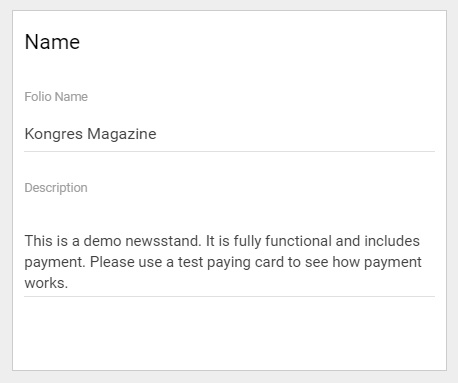 Also add a newsstand logo and you're on the right track. The name, description, and logo will appear the top of the newsstand page itself, but they are also displayed when the newsstand URL is shared on social networks, so make sure that you provide the share image as well. Then select one of four available layouts, each of which will display the available editions in a different way. Depending on the layout you select, the system will utilise each edition's cover image, or its landing page thumbnail, which can be updated if necessary. We suggest that you simply try them out and stick with the one that works (looks) best.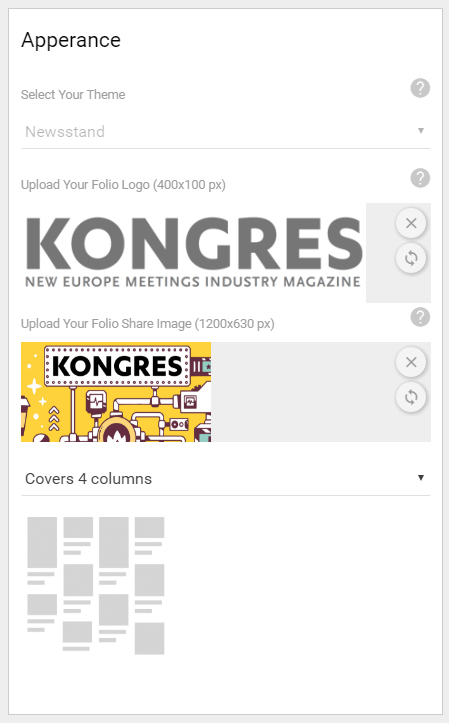 Footer
You will most likely also want to provide a bit of context about your newsstand, perhaps some sort of privacy policy, or even an about us style page. This is easily achieved in the Footer tab, where you can enable up to five footer menu items that display the provided content when clicked. To do that, select one of the Footer menu items from the left to reveal the corresponding options in the adjacent area on the right-hand side. Next, flip the switch to Enable menu, provide the menu name, and, using the text editor, provide and style the content you want to be displayed when that footer item is clicked.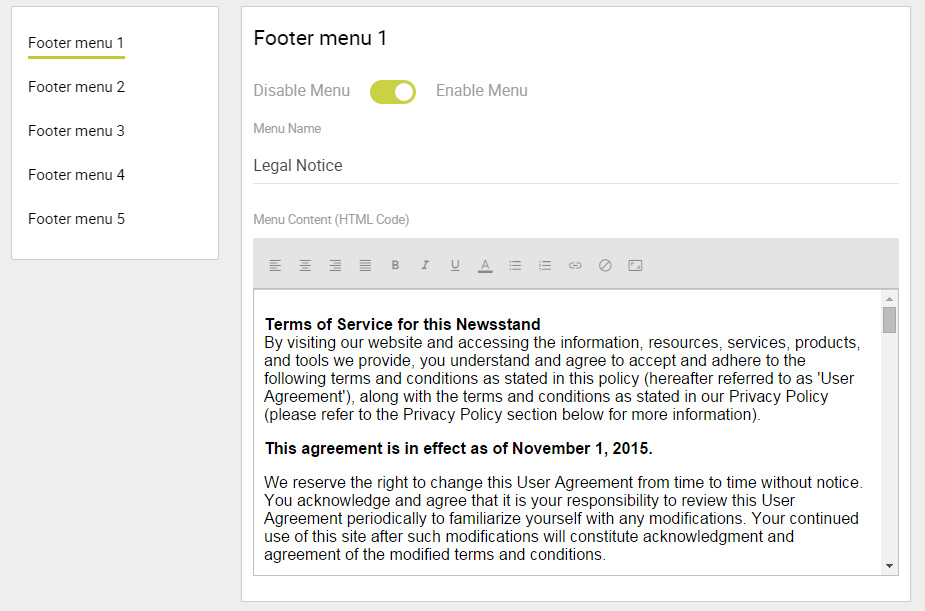 Newsstand
In order to start selling your editions you'll need to set up a payment method and the Newsstand tab is exactly where you can do that. On the left side you'll first need to select which currency the newsstand will use to display prices. Below that is the Auto apply option, where you can select between manual or automatic. When you select manual, you are required to click the Apply changes button at the bottom after every change that you are certain you want to commit to. If you feel confident enough not to double check the changes before hitting the Apply changes button, you can select automatic, which will apply the newsstand data and preferences automatically.
On the right side of the newsstand tab is where you need to select the payment method you would like to offer on your newsstand. Depending on the method you select, we will require a few corresponding merchant's API details. When you select PayPal, for example, we will require the API signature credentials (https://developer.paypal.com/docs/classic/api/apiCredentials/): username, password and signature, all of which you can obtain through your PayPal merchant account. This info is crucial because the system uses it to communicate with your merchant account in order to transfer the funds of each purchase.
When dealing with payments it is of the utmost importance that you test things out to make sure everything is working properly, which is exactly why we've enabled a sandbox option. Most, if not all, merchant accounts provide a way of testing their API so be sure to check your merchant's documentation to learn how to enable testing (sandbox) and obtain the testing info. When you're ready to start testing, just select the sandbox option, which is located next to the payment method option, and use your newsstand to make a purchase. After that check if the test purchase went through.
Sales model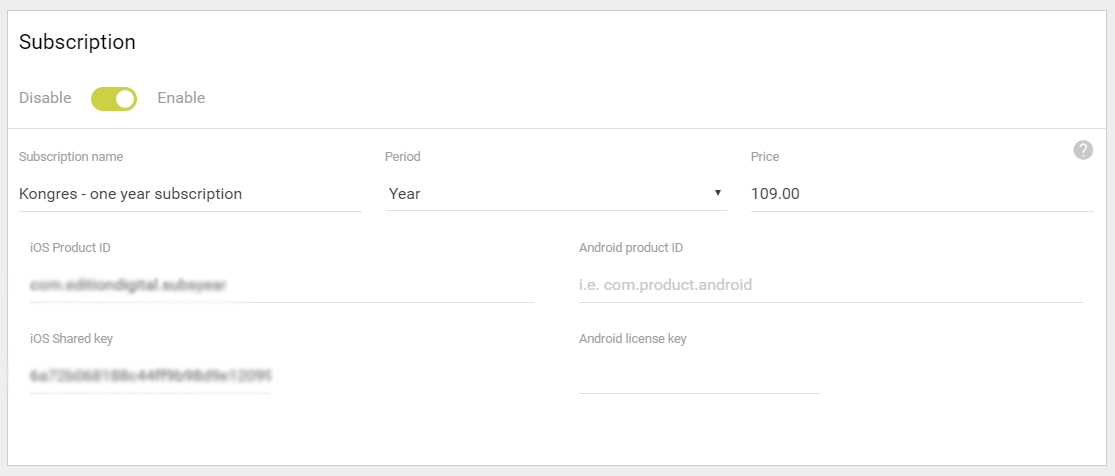 Here you can select which of the available selling models you would like to use on your newsstand. The Single issues model enables you to sell each issue individually; you can set the prices for each issue in the Items tab. The Subscription model enables you to set a price for all upcoming issues that your customers will receive in the next year. And the Membership model enables you to set a price for all back issues and upcoming issues that your customers will have access to for one year.
Each selling model can be used individually. You can also use a combination of the Single issues and the Subscriptions or Membership model, but you can't use the Subscription and Membership models at the same time.
Items
As mentioned, you can sell individual editions at a price of your choosing. You can define a specific price for each individual issue in the Items tab, where all editions that you've added to the newsstand are listed. Each edition is accompanied by a Published option, which needs to be selected, for the item to appear in the newsstand. Next to that option is a input field where you can provide the price of that item. To offer any edition for free, select the Free option underneath.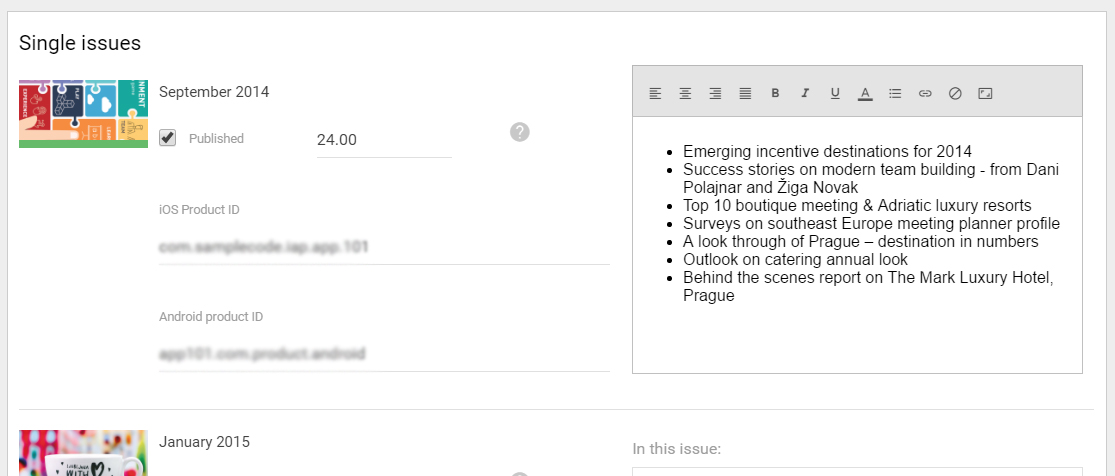 You've probably also noticed the additional iOS Product ID, Android Product ID, iOS Shared key, and Android license key fields, which are present under the subscription details and also under each individual edition. When setting up a web-only newsstand you needn't worry about these bits of info because they do not apply there. However, if you've decided to also set up our Android and/or iOs app with in app purchases, these bits of info are required. To obtain this information please refer to the corresponding service provider's developer documentation.  
Users
The last tab, called Users, is your user administration. It enables you to create user accounts that will be able to access your newsstand. To do so, click Add user at the top and provide the user's first name, last name, email, and password. Then, click Add user and the user list will be updated with a new entry, as expected. However, when a certain user doesn't require access to your folio any more, select that user and click Edit user at the top. The previously provided user information will appear in a popup where you can update the info and deselect the Banned option to prevent further access to the folio.

Orders
The orders tab is where you can track all orders made through your newsstand. This comes very handy when you need to know the details of a specific order like when it was made, who made it, what it contained, its price, and, off course, if the order was completed successfully. You also have the ability to cancel orders and/or subscriptions, if necessary. 
Once your newsstand is ready to go, the containing editions will be displayed within a responsive website that assures top notch user experience and motivates readers to subscribe. If you also decide to setup an Android and iOS native app to go with the web newsstand, that's even better. This means that users can subscribe either through the web or apps published through iTunes, or Google Play stores and view the editions anywhere, but you can manage them all in one place. And get this, all your earnings fly directly to your account without commission! Happy and fruitful monetising.  
Promotions
There are two options for promoting magazines, subscriptions or bundles. The first option is Voucher and the other option is Coupon.
Use vouchers when you want to give someone something for free. Use coupons when you want to give a discount.
Vouchers
When you want to give someone something for free vouchers are a way to go. The customer needs to enter the voucher code in order to get item(s) you defined in the voucher administration. There are two voucher entry points for the end customer: one is on the user registration form and the other is in My account area.


In administration when editing or adding a voucher there are two tabs and one popup window: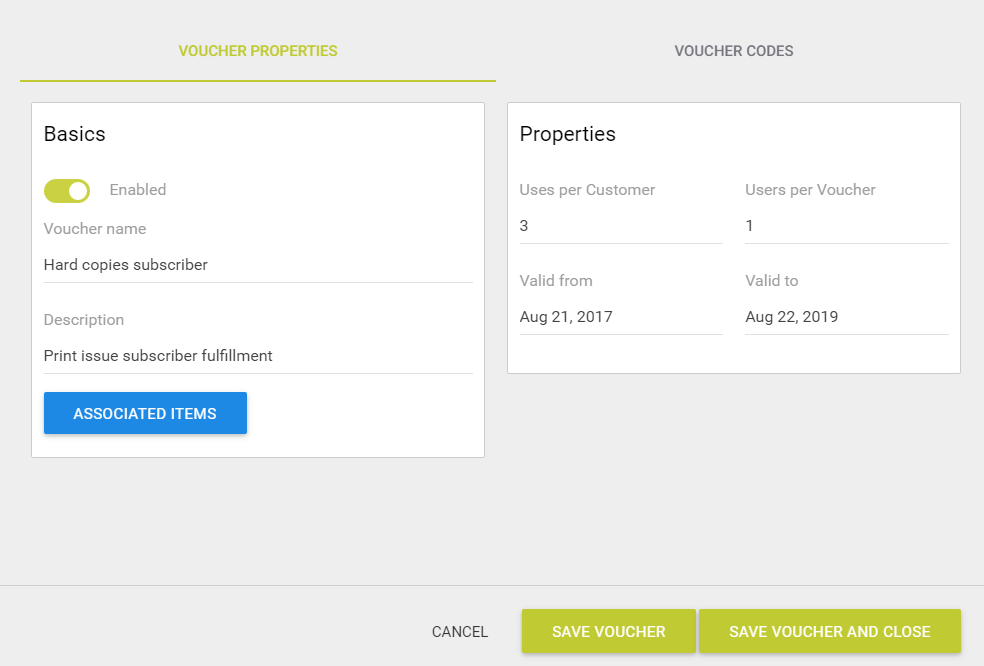 1. Voucher Properties
Define the Voucher name, Description, make sure that the voucher is enabled.
Uses per Voucher - how many times customers can apply the voucher code.
Uses per Customer - how many times each individual customer can apply the voucher code. Default is 1. More than 1 is only useful when you want to give a customer a subscription for multiple years for example.
Valid from - to is a time span in which customers can apply the voucher code.

2. Voucher Codes 
You can add one or multiple voucher codes and see the entire list by clicking Show voucher codes list.
3. Associated Items
Define which items the customer is getting for free if he enters the correct voucher code. The items are: single publication, subscription/membership, bundle.
Usage examples:
1. Facebook promotion: First 5 users who enter the code: HOTSUMMER will get the latest issue for free!
In the administration you need to set the Uses per Voucher to 5, Uses per Customer to 1. You need to define one voucher code: HOTSUMMER and associate the latest single issue you've published.
2. Print magazine subscribers campaign: you need to give a 100 subscribers (to hard copy of your magazine) a free access to a digital publication.
In the administration you need to set the Uses per Voucher to 100, Uses per Customer to 1. You need to generate hundred voucher codes and associate a subscription or membership. You can print each code and pack it with the printed magazine or send to the customer via email.
Coupons
Coupons are codes which end customers can apply and get some kind of a discount. Under the Promotions tab inside the newsstand administration you can add coupons.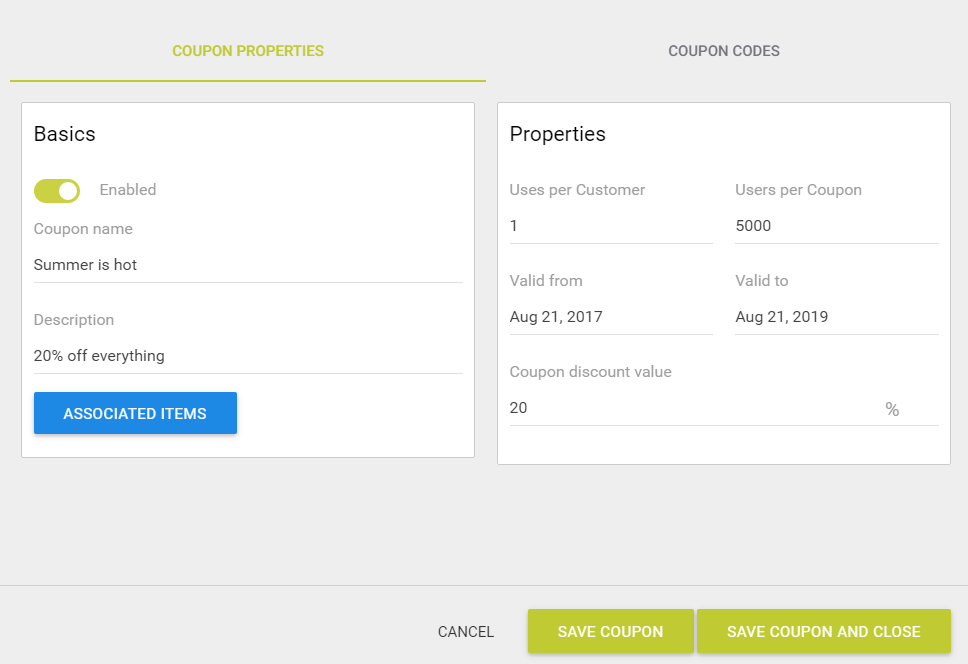 1. Coupon Properties
Define the Coupon name, Description, make sure that the coupon is enabled.
Uses per Coupon - how many times customers can apply the coupon code.
Uses per Customer - how many times each individual customer can apply the coupon code. Default is 1. Use more than 1 if you allow the customer to apply the coupon code multiple times.
Valid from - to is a time span in which customers can apply the coupon code.
Coupon discount value - The percentage you want to discount your items.

2. Coupon Codes 
You can add one or multiple voucher codes and see the entire list by clicking Show voucher codes list.
3. Associated Items
Use this option if you want to promote specific items. The items are: single publication, subscription/membership, bundle. If you want to give your customers the discount for all items then leave this option alone.
Bundles
In marketing, product bundling is offering several products for sale as one combined product.
In administration you need to:
1. Set the Bundle name
2. Set the Bundle description: Make sure to explain what a user gets when buying the bundle.
3. Set the Price
4. Set the iOS product id, Android product id (optional; when selling bundles in the dedicated app)
5. Upload the representative bundle image.
6. Associate items: Pick the items which the end user will get after buying the bundle. You can choose between single issues.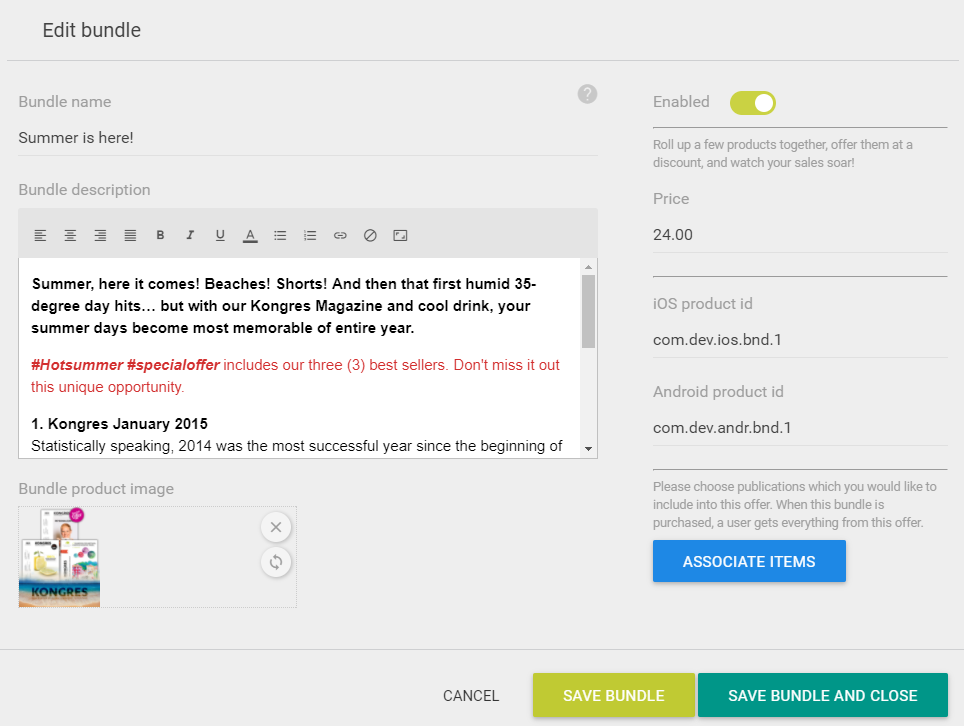 The bundle will show up in your newsstand. After purchasing the bundle, end customer will get all associated items into his library.
Have something specific in mind? Don't worry, just type what you are looking for. Here is our searchy searched.