How to manage projects and users
If you were assigned a Custodian or Admin role of an Edition Digital account, you have the ability to create new editions, projects, users, and most importantly, assign users to specific projects or editions. All this takes place within the Manage projects and users section, which can be accessed if you click on the Administration main menu item, followed by the Manage projects and users sub menu item.

On the left-hand side of this section, a collapsible list of all the editions and projects, which were created within this account, will be displayed. To create a new project locate the Create new project button. Click it, type in the project's title, select the fitting categories, click Save Project and you're done. The new project will appear in the list and you can immediately start adding in new editions. Beside each project's title there's also an edit pencil icon, which you can click if you want to change the project's title or edit the categories.  

On the right-hand side there's another collapsible list, but this one is reserved for users. The list is divided in two groups of users. The first group from the top is for the Custodians and Admins, who, by default, have access to all editions. In the second group are all users, whose roles are Editor, Designer, or Analyst.
As the Custodian or one of the Admins of an account, you can assign existing Editors, Designers, or Analysts to individual editions or whole projects from the adjacent list. To do that simply drag-and-drop a user's circle icon on the edition, or project, which you want that user to be able to access. As the Custodian or Admin you can also create new users. Click the Create new user button at the bottom of the Users list, populate the form with the requested information, and hit Save user. The new user will instantly appear in the user's list from where you can also edit the previously provided information if you click the Edit button.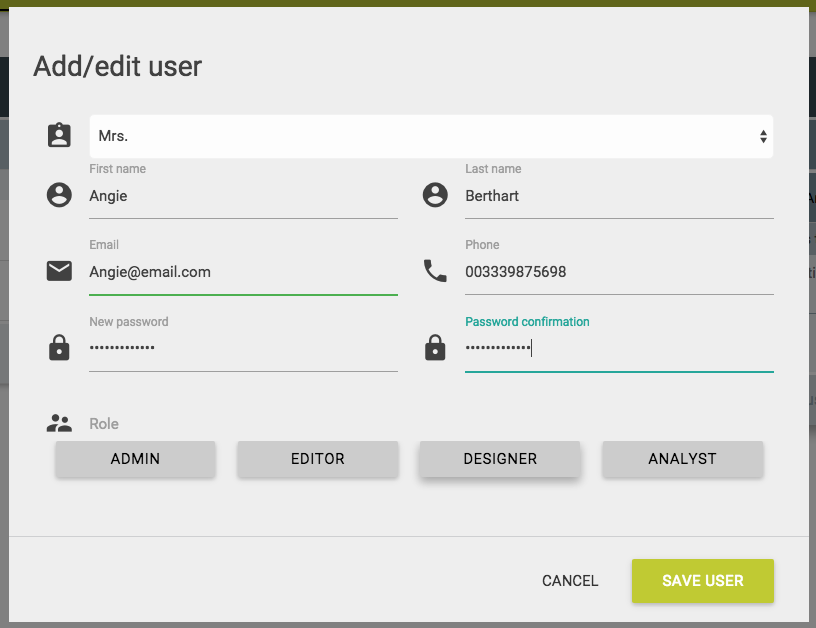 When creating new users, you will need to select a role for each user. The purpose of user roles is to make project and user management easier. Each user role comes with a specific set of permissions, which are explained in detail right here: User roles explained.  
Have something specific in mind? Don't worry, just type what you are looking for. Here is our searchy searched.