How to create landing pages
When promoting or simply sharing your content with your readers it's good to have options. You don't always want to point your readers to the first page of your edition and hope that they will have the time and attention to look for content. That's why you need to do your very best to deliver the right content to the right readers at the right time. In order to do that you will need a simple but effective way of directing your reader to specific pages or sections of your edition and that's exactly what the landing pages enable you to do.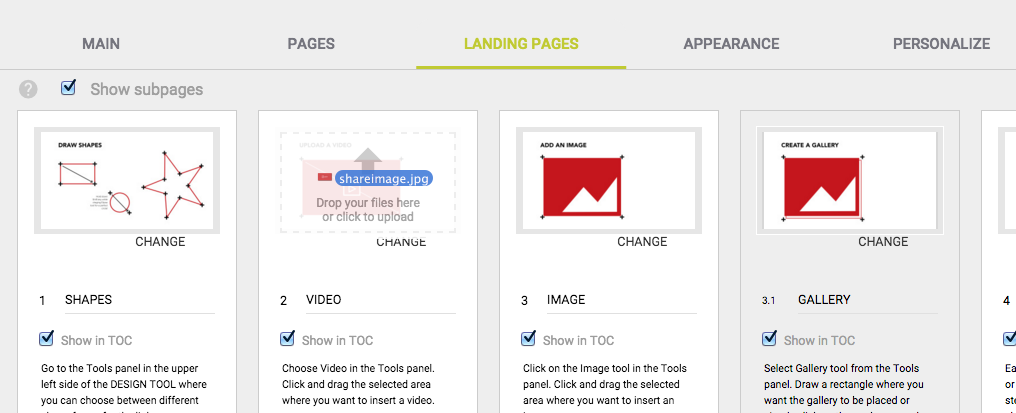 You can create landing pages in the Workflow's conveniently called Landing pages section. If you tick the Show subpages checkbox at the top of the section you'll find that not only main pages, but subpages can be used as landing pages as well. This will be apparent in the center of the section where the pages are displayed. Each column represents one page of your edition and to effectively create a landing page, just provide the details that each landing page requires. We really encourage you to provide all the information that's required for a landing page so your content will have a better chance of getting discovered by a wide audience. Remember, when it comes to distributing digital content, information is key!
Starting at the top of one page's column, there's the page thumbnail. Edition Digital will automatically create page thumbnails when you use PDF files to create the edition. However, if for some reason you would like to use a different image, simply click CHANGE to select it from your device, or drag-and-drop it in that area. Adding nice page thumbnails and enabling the TOC option (under each thumbnail) will make it easier for your readers to navigate through the edition.

Following the thumbnail is the page's title which should be simple, memorable and impactful. This title will be displayed whenever you share this page on social media, it will appear in the loading sequence when the landing page's bespoke url is used, it will be displayed in the table of contents if you tick the Show in TOC checkbox underneath the title, and it will be used as the last segment of the landing page's bespoke url.
Use the description field to describe what's happening on the page. No need to go into too much detail, just a few sentences so your readers get the gist. This description will be displayed whenever you share this page on social media and it will also appear in the loading sequence when the landing page's bespoke url is used. If this description is missing, the edition's description from the Main section will be used instead.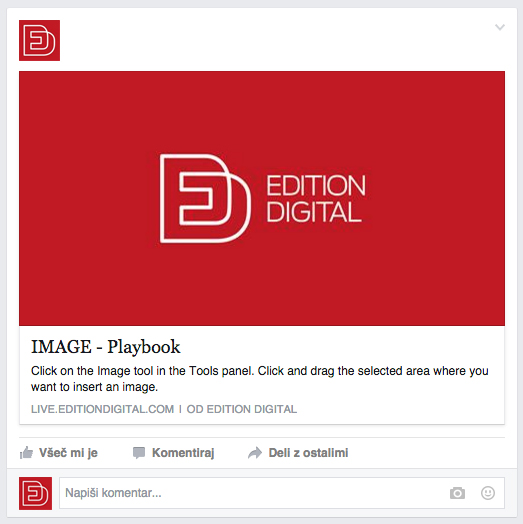 Alongside this page's description and title, the share image will also be displayed whenever this page is shared across various social networks. Therefore, if the image is partial or missing we strongly suggest that you update the image before you go live. Simply clicking on the thumbnail and select it from your device, or drag-and-drop it in that area. If, however, the share image is not provided, the edition's cover image will be used.   

As mentioned, each landing page comes with a bespoke url address, which is exclusive to that page and can be used to direct traffic. The url address can't be edited, however, it does utilise the page's title so if you don't want to use the default address, make sure the title is provided.
A word of caution. Sharing the landing page's url prior to providing all the requested information can cause misrepresentation. Imagine sharing a link on Facebook just to find that the share image is missing. You can update or change the landing page info at any time, however, sites like Facebook cache content and may take days to refresh.
Apart from giving you options when promoting your edition, creating landing pages will also benefit the edition's SEO, which will be reflected in the How to attract more readers section. But in general, the more landing pages you create the better. If you want to learn a more about how to improve your edition's SEO, this article is a good place to start: SEO for digital magazines.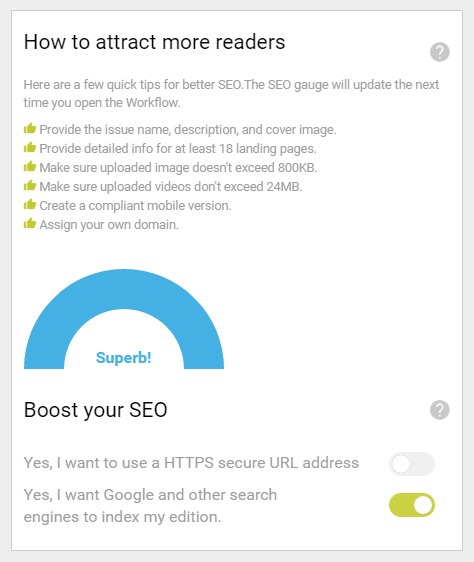 Have something specific in mind? Don't worry, just type what you are looking for. Here is our searchy searched.