SEO for digital magazines
The world wide web is constantly growing, and with it the number of various content and service providers, who are all competing for the internet users' attention. We've reached a point where not taking care of SEO can mean the difference between success or failure, because let's face it, we don't have the time and patience to look through tens of pages of search results. It all comes down to the first few results pages and to get your content there, your SEO needs to be in top shape.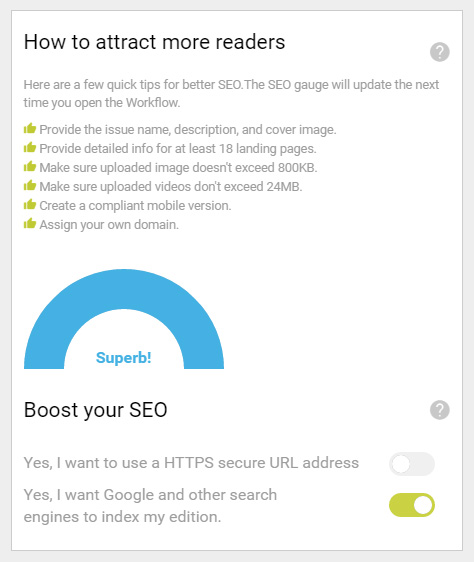 But there's no reason to worry about SEO if you're using Edition Digital because we're committed to offering a complete solution for digital publishing that takes away the stress of technicalities so you can concentrate on being creative. To that end, we have dedicated a lot of time and energy researching how to properly structure and provide content according to various search engine standards so you don't have too. All you really need to worry about is creating quality and engaging content and let the system do the heavy lifting.
Using what's already there
When creating a digital magazine replica from a PDF, the system will extract and store all containing text and links. Once that digital magazine is published, readers navigating through it are be able to search through all the text in the magazine, so they can quickly find the content they are interested in. In addition, the system will create a properly structured HTML page and offer the exact same text to search engine crawlers. Once the text is indexed, searching the magazine's content is also possible using the search engine.
Not so fast!
Search engine results with poorly formatted names, missing descriptions or a long and confusing url address can discourage internet users from clicking. To avoid this from happening to your digital magazine, Edition Digital has built in a simple yet effective safeguard. Before you can publish a digital magazine you are required to provide at least:
a name

a short description

a share image
This ensures a consistent representation whether your digital edition is displayed in a web newsstand, social media stream or a search engine result page.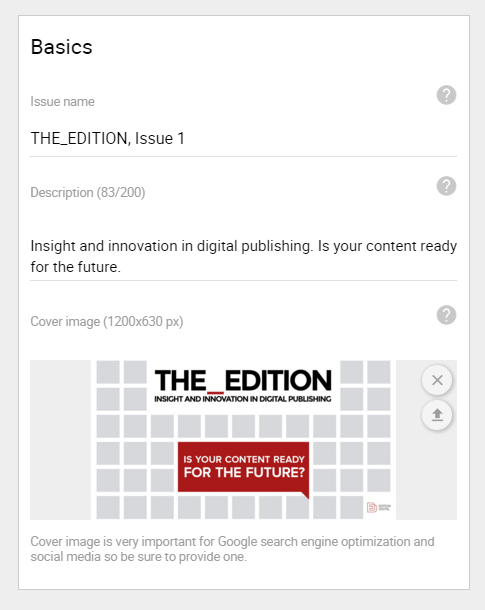 Landing pages
Landing pages enable you to provide more detailed information for every individual page or section of your digital edition. In turn you obtain a bespoke URL address that you can use to drive readers directly to content that you think will be most interesting to them. At the same time you are giving the crawlers even more content and links to index, so with each landing page you are increasing the chances of more readers discovering your content. When they do, the search engine result will consist of the landing page name, followed by the edition name. For example, if the edition name is "Zoom Zoom magazine" and the name of one landing page is "Rearview", then the search result would look like this: Rearview - Zoom Zoom magazine.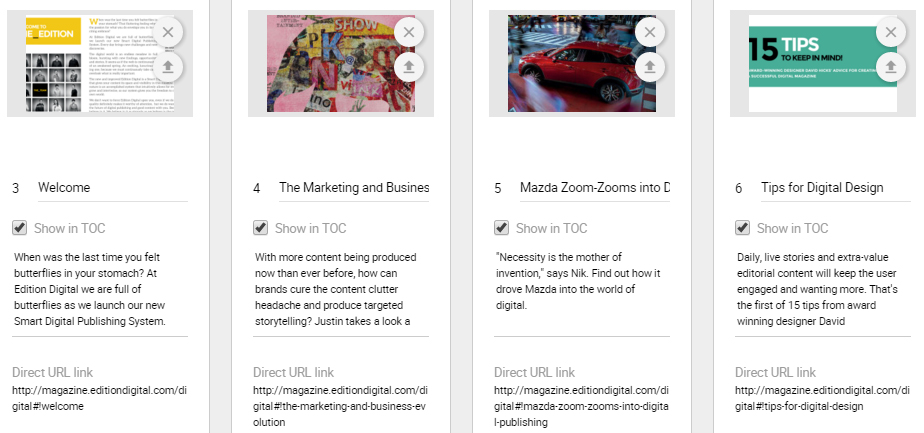 Mobile matters
It's no denying that today mobile and tablet devices play an important role in our daily lives. Search engines have recognised this evolving trend quite early on and haven't lost any time teaching their crawlers to also check whether various types of content are suited for smaller screens. Now, search engines give greater value to content that's optimised for mobile phones and tablet devices.
Edition Digital enables you to create mobile versions of individual pages or sets of pages of your digital edition with ease using our mobile editor. When mobile optimised pages are present, the system will automatically determine when the fixed page proportions wouldn't provide a satisfactory experience on the user's device and will therefore display the mobile version instead. Mobile versions will raise the value of your content not only for search engines, but also for your readers.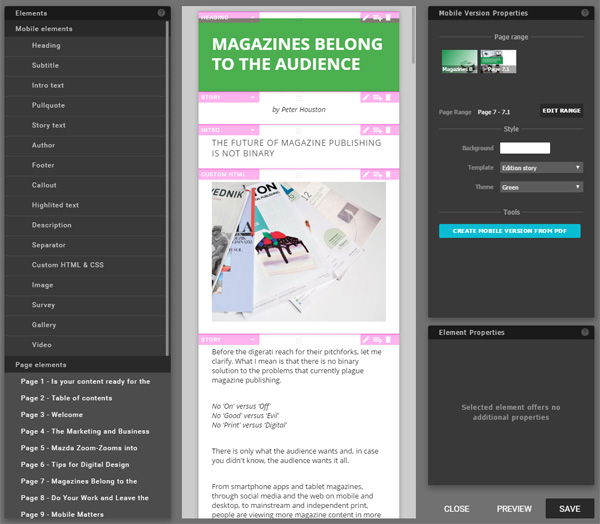 What now?
Once search engine optimisation is taken care of, things should fall into place, right? Well, not exactly. If you've taken our suggestions into account, you've definitely increased the chances of your content being discovered, but that alone just won't cut it.   
You might find it surprising, but a well-defined edition with a catchy name, intriguing description and an attractive share image shared on social media can lure in more readers than a paid ad! Make sure you create a landing page for every main section and then start promoting your content. Have I mentioned promoting your content?
Have something specific in mind? Don't worry, just type what you are looking for. Here is our searchy searched.