How to attract more readers
The Edition Digital system doesn't just provide the functionality one needs to create digital editions, but it also helps you to do that in the most effective way so your edition will attract lots of readers. To see what we have prepared, head over to the Workflow's Main tab and look for the section called "How to attract more readers".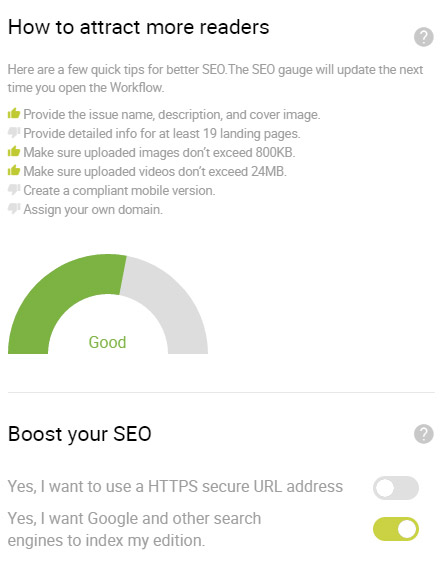 Here you will find a helpful checklist of suggested tasks that will have a substantial impact on your edition's success. When one of the tasks is successfully completed, a green thumbs-up will be added to it so you know that it's already been taken care of. Here are the suggested tasks:
Below that is the Edition Digital search engine optimisation gauge, or SEO gauge for short, which is an unambiguous and legible representation of a calculated result, produced by Edition Digital's internal algorithm for determining digital content readiness for platform agnostic distribution. Now, that might sound a bit sci-fi, but the principle purpose of the SEO gauge is very simple: It represents a measured level of how well your edition is prepared for today's digital content and user experience standards.
In practice this means the system will check if you've taken action on our suggested tasks. Don't take this as a competition or a test, because that is not the case. The SEO gauge is your friend and if you take into consideration what it is telling you, your edition will be more user friendly and will have a better chance to reach a lot of readers.
Security also matters, which is why we've added the option of enabling the HTTPS secure URL address for your edition. Using HTTPS you will gain better SEO recognition (over time), a secure connection and the option to redistribute the edition's links within other HTTPS secure sites via iframe. When this option is enabled, make sure that all pop-ups (shape elements with the pop-up action) utilise a HTTPS secure address, which must also be used when embedding images from 3rd party servers into textblocks and mobile versions.
By default, Edition Digital will properly structure and serve the SEO relevant information of your digital edition to search engine crawlers to index. That is indicated by the green switch next to Yes, I want Google and other search engines to index my edition.However, if you don't want your edition to get indexed, simply disable that option.
Have something specific in mind? Don't worry, just type what you are looking for. Here is our searchy searched.