How to check system notifications
The system notifications pop-up can be opened by clicking on the bell icon, which is located in the top right-hand corner of the main menu. This is where the most recent notifications will appear, but you can have a look at a more extensive list if you click the Show all button at the top of the pop-up.

Rest assured that we won't bug you with every detail that's taking place, however, we will make sure that you receive the most important system notifications and announcements such as scheduled maintenance or system updates. At the same time, this is also where you will receive notifications related to your account, users, editions, apps, folios, etc.
Whenever a new notification arrives, a red dot containing the number of new notifications will appear above the bell icon. Very important notifications will also require your confirmation so we know that you're aware of what's happening.
On the right-hand side of the notifications section there's also the system health monitor so you are always aware of how the system is doing.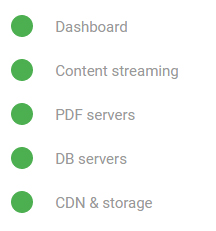 Have something specific in mind? Don't worry, just type what you are looking for. Here is our searchy searched.