How to use My Editions
As the name already suggests, My Editions is the section where you can browse through all of your editions. That's made possible by using a search bar, which is located in the the top left of this section, where you can type in the name of the edition that you're looking for. You can narrow your search down even more by using additional filters, which are located right beside the search bar. These filters allow you to determine the date span of your search and how you want the results to be ordered. Once you've set the filters, simply click Submit to see the results.

The result of your search appears beneath the search filters and is organised in two columns. The left-hand column contains editions that are Live and the right-hand column contains unpublished editions. Each edition in either column is represented by a compact card, containing its cover image and name. There's also a supplemental More button on each card, which you can click to reveal more information about that edition. (When you want to reveal additional info on all editions in the column, click the expand all icon at the top of each column).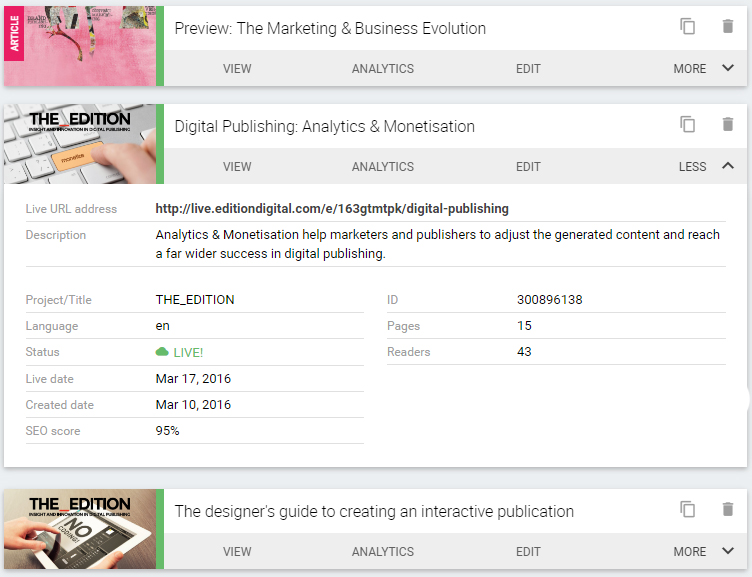 In addition to the More button, the cards of published editions in the left-hand column also contain the Edit, Analytics, and View buttons, which enable you to quickly access the Workflow, the Analytics section, and/or open the live edition in a new browser tab, respectively. The cards of unpublished editions, however, just contain an Edit and a Preview button, which enable you to quickly access the Workflow and/or open a preview of the edition in a new browser tab, respectively. Furthermore, each edition can be deleted or copied by using the Delete and Copy buttons.
At the top of the unpublished column you'll also find the Create new card. If you click it, you'll reveal three options: Edition from PDF, Edition from scratch, and Article. Clicking on either of these two options launches a nice wizard that will lead you through every step of the process.

Have something specific in mind? Don't worry, just type what you are looking for. Here is our searchy searched.