How to add blank pages
To add a single blank page to your edition, look for the "insert new blank page" button that's located just outside the area with page thumbnails and click on it. It  couldn't be any simpler. If you select a page from the page structure area prior to clicking the button, a blank page will be inserted right after the selected one. Otherwise, the blank page will be inserted at the end of the edition.

When you want to insert several blank pages at once, click on the adjacent button, which will reveal a pop-up containing three operations. The one we're interested in at the moment is called "Insert blank pages" so go ahead and select it.

Now the pop-up will expand to detailed options corresponding to the selected operation. To continue you will need to provide the number of pages that you require, the page after which the blank pages will be placed, and optionally also the background colour – although you can leave that as it is and the pages will be created in the default white. To insert the pages, click the Insert button at the bottom of the pop-up window. Finally, commit to the changes by clicking on the Apply button at the bottom of the Workflow window.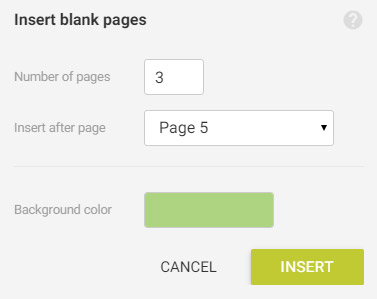 Have something specific in mind? Don't worry, just type what you are looking for. Here is our searchy searched.